Battery Saver - Battery Contact Cleaner $4.99 was $6.49
Shipping & Handling [GA residents subject to 7.00% Sales Tax]
Please Contact Us For Volume Orders or Special Shipping Arrangements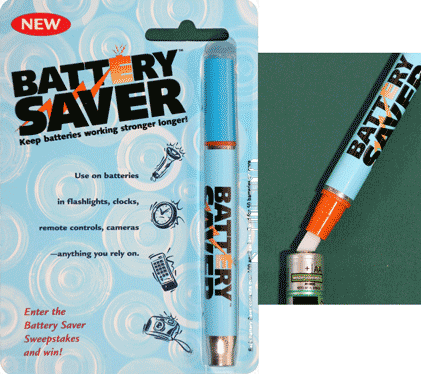 Get All The Life From Your Expensive Batteries
Battery Saver's fast acting formula removes oxidation from old and new battery contact surfaces.
The result is maximum power flow, and full use of all types of alkaline, lithium, and rechargeable batteries.
Simply rub on the Battery Saver, and get full use of your batteries.
Cleans & Protects both the Battery Contacts and the Device Contacts !
Recommended for:

Batteries - Rechargeable
Batteries - non-Rechargeable
Battery Chargers
Camera's - Digital or Film
Camera Flashes
Cellular Phones
Camcorders
Notebook Computers

Hearing Aids
Toys
Watch Batteries
Smoke Detectors
Cordless Tools
Flashlights
Clocks
And Much More ...

Advantages:

For use on both new and used batteries.
Cleans and protects batteries and contacts.
Removes oxidation from the battery and battery terminals.
Applies protective coating to prevent future oxidation of the batteries.
Get the maximum power from your batteries

Directions:
Remove cap from applicator.
Check wetness of applicator tip on paper, or other disposable surface before using (liquid is clear).
Firmly rub wet applicator tip over all accessible contact surfaces of both batteries and the device.
Make sure all contact surfaces are completely coated.
Install batteries in device, and replace cap on Battery Saver.
Repeat application regularly, or if battery performance fades.
Application tip may turn dark after use.
Active Ingredients: Citrus and Mineral Oil
Cautions:
NOT intended for use on Car Batteries, Zinc Air Batteries, or AC electrical appliances
Safe to use on Metal, and Plastic surfaces.
Non-Toxic ingredients.
Store in a cool, dry place.
Keep out of the reach of children.