LensPen LP-1 Optical Lens Cleaning Pen $6.99 was $7.99
Shipping & Handling [GA residents subject to 7.00% Sales Tax]
Please Contact Us For Volume Orders or Special Shipping Arrangements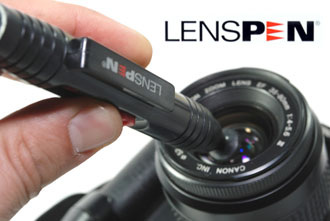 The ultimate in optical lens cleaning technology !
There is no doubt about it...
Camera lenses and other optical lenses get DIRTY.
They need to be cleaned periodically, quickly, and in the field.
What could be easier than taking a pen out of your pocket ?
Perfect for cleaning camera lenses, binocular lenses, small aperture
spotting scopes and telescopes, eyepieces, and other optical items.
LensPen uses the LensPen brush and patented cleaning compound
to safely and effectively clean the optics on all your equipment.
Keep one in your bag, and one at your studio !
LensPen comes with a handy retractable dust removal brush
and a special non-liquid cleaning element, designed to never dry out.
Safe and very easy to use..
Environmentally friendly and non-toxic.
Handy, high quality retractable cleaning brush.
Unique cleaning compound will not spill or dry out.
Nothing cleans optics better than a LensPen.
Multi-Lingual instructions included. (PDF File)
Recommended for:
Cameras - Digital or Film
Binoculars
Scopes
Video Cameras
Optical Eyepieces

Cautions:
LENSPEN is designed for optical lenses. Careless use may cause damage to lens coatings. Please read instructions before use.
This quality lens cleaning instrument is manufactured in a "clean room" environment to assure that the cleaning tip of LENSPEN is free of any unwanted hard particles when purchased. For maximum performance and safety to the lens, use LENSPEN according to instructions provided.