LENSPEN Mini PRO Lens Cleaning Pen $9.99 was $10.99
Shipping & Handling [GA residents subject to 7.00% Sales Tax]
Please Contact Us For Volume Orders or Special Shipping Arrangements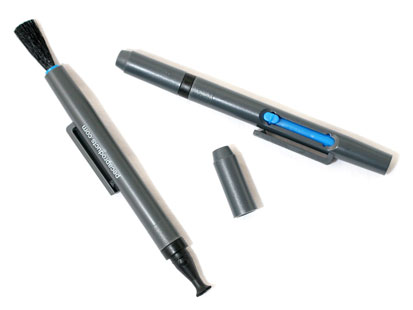 A high quality, all natural retractable brush lets you safely remove dust, or hard particles
from the lens surface.
Unique soft chamois cleaning tip is impregnated with a revolutionary non-liquid cleaning
compound that absorbs oily residues, and contaminants safer, easier, and more effectively
than any other method.
Cleaning compound will not spill, or dry out.
Replenish the cleaning pad with a quick twist of the cap.
A pocket clip lets you attach it to anything, and it's compact enough to throw in a
pocket, or a camera bag !
Recommended for:
Cameras - Digital or Film
Binoculars
Scopes
Video Cameras
Cell Phone Camera Lenses

Directions:
Use retractable brush to remove dust particles and other loose materials.
Remove LENSPEN cap, exposing the unique flexible cleaning pad.
Using a smooth circular motion, wipe the lens surface.
If smudges persist, breathe gently on the lens surface, and repeat the cleaning process.
Replace cap over cleaning tip, and give the cap a half twist. This will replenish the unique LENSPEN cleaning pad.
Cautions:
LENSPEN Mini Pro is designed for optical lenses. Careless use may cause damage to lens coatings. Please read instructions before use.
This quality lens cleaning instrument is manufactured in a "clean room" environment to assure that the cleaning tip of LENSPEN Mini Pro is free of any unwanted hard particles when purchased. For maximum performance and safety to the lens, use LENSPEN Mini Pro according to instructions provided.